We're getting started on the next issue of Don't Take Pictures and working on our own holiday stationery this weekend, but just over a month ago, Brenda and Jake celebrated their marriage with friends and family in Sturbridge.
The couple's Save the Dates, designed by the groom, were dead ringers for Ticketmaster concert tickets. When we set out to design their invitations, they asked us to keep things to just one card, and wanted to continue to follow their live music roots by channeling gig posters.
We scoured the internet and put together several concepts, but the client favorite was a color-blocked design on bright white. Jack created vector silhouettes of a wedding canopy and the wedding venue to include in the corners of the invitation. I hand-lettered the couple's names, and the sketch was also scanned and converted to a vector file for the design.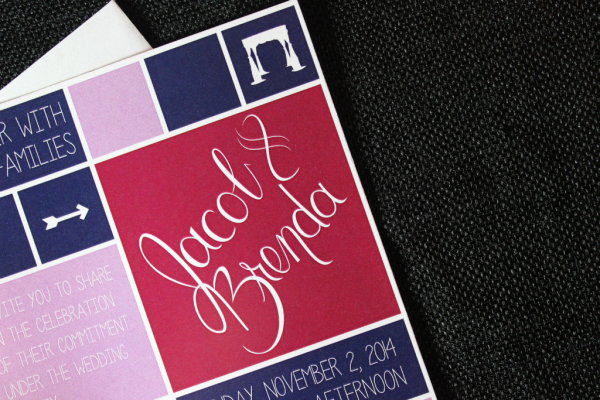 The card was printed digitally on a bright white stock, and mailed in white envelopes; we also handled addressing, in a casual script lettering. The use of a single flat card and digital printing helped to keep costs low while creating a completely custom design for Jake and Brenda, and leaving the addressing of envelopes to us saved the couple valuable time that is all too limited in wedding planning.
Brenda and Jake carried their musical stationery theme through to the escort cards used at their event, which we also lettered. The mix tape card design is the work of LetterBoxInk, available (and customizable!) on Zazzle. The duo opted for a simple, all-caps lettering style for their guests' names.
More photos from Jake and Brenda's wedding day can be found at local photographer Jordyn Rozensky's blog. We were so happy to be a part of their vision for #JBUltimateDateNight – congratulations, and thank you!
image credits: Union Jack Creative