Formal, copperplate script calligraphy is a beautiful, elegant and timeless addition to invitations—and we've done it!—but it's labor-intensive and, accordingly, expensive.
On the other hand, addressing envelopes yourself can be tedious and frustrating, and printed labels might not have the festive feel you're looking for. Casual calligraphy is a great option, and I've been doing much more of this low-key lettering lately. It's fun! It's fancy! It won't break the bank!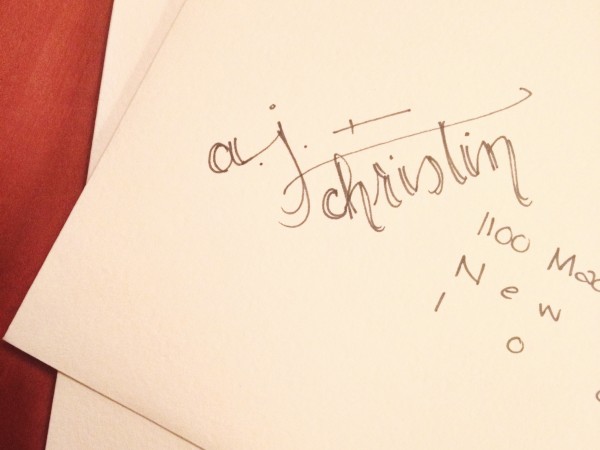 Send us your guest list and envelopes, and we can address, embellish, proof and send them back for a fraction of the cost of formal calligraphy, and in less time than it would take you to tackle the addresses yourself. We've got listings for lettering up on Etsy, and in our shop, but special requests are more than welcome, and I'm happy to lay out all of the options.
And, don't forget—we can help with custom stationery and wedding invitation suites, too! We love custom projects; email shop@unionjackcreative.com to let us know what you have in mind.
image credits: Union Jack Creative