Lighting is an interesting thing. In photography, good lighting – and good use of that lighting – separates professionals and artists from the rest of us. At a party, the right amount of light keeps guests comfortable, but sane. In a museum, lighting can draw subtle boundaries for the visitor, or transform the viewing experience; the recent Testino exhibit at Boston's MFA comes to mind, with lighting so precise and powerful that the photos seemed to be glowing from within.
Plenty of artists have toyed with light – and physical lights – in their work, but two projects crossed my path this weekend that are stunning in their combination of precisely projected light with paint.
Jay Shinn uses projected light to add depth and shadow to his gallery installations.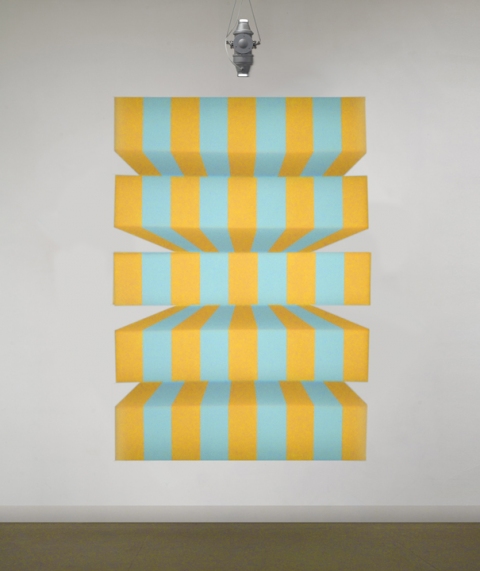 The transformation of these otherwise basic painted geometric works, once I start trying to wrap my mind around the precision involved, is magnificent. See more of Jay's work in his portfolio, and at this post from The Jealous Curator.
In the first short of a promised series, Urban Projections' Rebecca Smith and Pete Barber created a multimedia mural, first painting a portrait and then projecting over it and recording in real time. The results are haunting, and I'm looking forward to seeing more from this group.
Read more about Urban Projections – a self-proclaimed collective of multimedia experimentalists – and their work and plans at their site.
image credits: Jay Shinn, via The Jealous Curator
video credit: Urban Projections, via Wooster Collective