In just a few weeks, it feels like our current winter wonderland has been (and will be) forever – but we're already in the latter half of February, and spring will come again. Eventually. We'll keep looking ahead to longer, warmer days, and glance back at more festive times and our 2015 holiday cards and New Year's Eve invitations.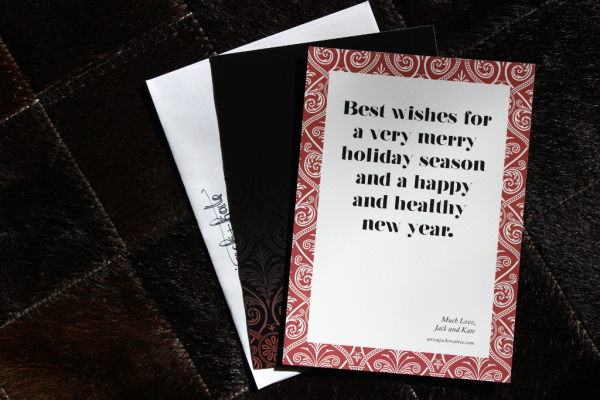 We've been working with a black (or navy) and gold color scheme for years now, and this year wanted to add a bit more color. Pantone's 2015 Color of the Year, Marsala, seemed like the perfect choice: subdued but with a warm, festive tone, and still paired well with black and gold.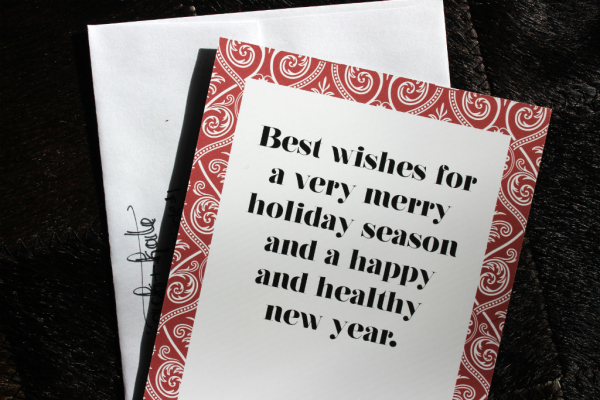 We first created a standalone flat holiday card, with the bold, serifed font Nouvelle Vague Black for the festive message. The 5×7 card fit envelopes already in stock in our studio, and could be mailed with standard postage, keeping costs low.
For depth and texture, we used a damask pattern both on the front of the card (with ombre marsala fading to black on black) and on the verso, in a marsala border on white. On the card front, UV coating carries the damask pattern across the entire card in gloss on matte black as the marsala ombre fades, and adds a tactile detail.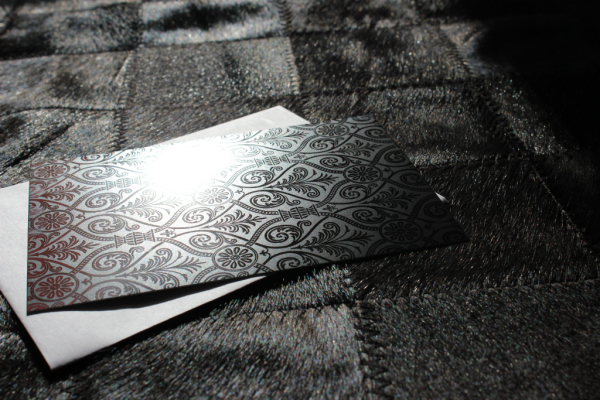 On each card, we used a Krylon gold leaf pen with a chisel tip to letter names of recipients over the UV coated pattern on the front. This pen was a delight to work with, and adhered to the UV coating and the coated stock evenly and without extensive dry time.
We used gold Sharpie to address envelopes in a casual script, carrying a light, festive tone to the envelope as well.
For our NYE invitations, we carried the marsala damask border into a second design to complement the primary card. The feature color carried into the vector of the "keep it 100" emoji used in the invitation headline, and the piece was printed on a lightweight, translucent vellum.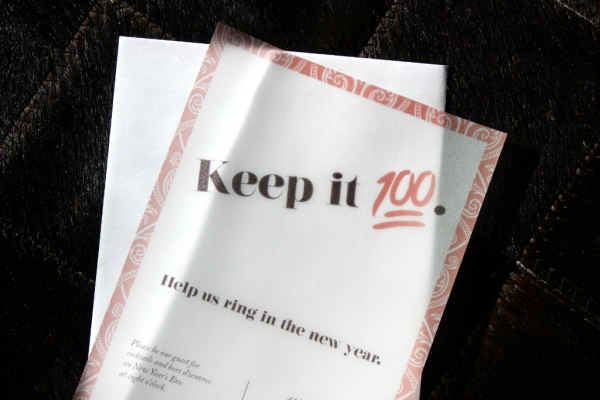 The use of vellum kept additional weight down, and the addition of this second, coordinating piece allowed us to print a single holiday card design in a larger run.
Questions about this card, or how we can design a custom two-piece invitation like this for your wedding or event? Get in touch!
image credits: Union Jack Creative
font credit: Dirk Schuster