Kate and I spent last weekend in Connecticut, but before we left I made the annual trip to ACBF with friends. The American Craft Beer Festival is unapproachable in scope unless you develop a plan to winnow down its copious tasting options. To this end, every year that we go I choose a style of beer and try to seek out that style from each brewery. This makes it easier to compare horizontally across the style.
In years past, I've focused on IPAs and Belgian-style beers. This year my focus was full-flavored, sessionable beers. Often craft brews are very high-alcohol, and while they may be delicious, the weight limits the number that you can sample in a go. Recently there has been a trend towards making very full-flavored beers at a lower ABV in contrast to the flavor-bereft macro brews which still represent the vast majority of the beer market.
Also of interest at the festival was the breweries' packaging and marketing design. With so many SKUs on a liquor store shelf, brewers know that they need to make their product stand out to shoppers who are browsing for a new beer to try. With this in mind, here are some highlights from last weekend.
Oxbow is a  Maine-based brewer specializing in Belgian style ales. Their Farmhouse Pale Ale is a nice, hoppy example of the style, and at 6% is more sessionable than some of its farmhouse brethren (which is ironic, since the original farmhouse style was meant to be a thirst-quencher).
This offering from Trillium was brewed at their new brewery, a stone's throw from ACBF (in the titular Fort Point). This beer is absolutely delicious Belgian brew, which is not surprising because I've yet to be disappointed by any of Trilliums's offerings. Currently they only offer growler fills at their brewery, but I'm looking forward to the day when they start doing tastings on-site because they're putting out some of the most inventive beer in the area.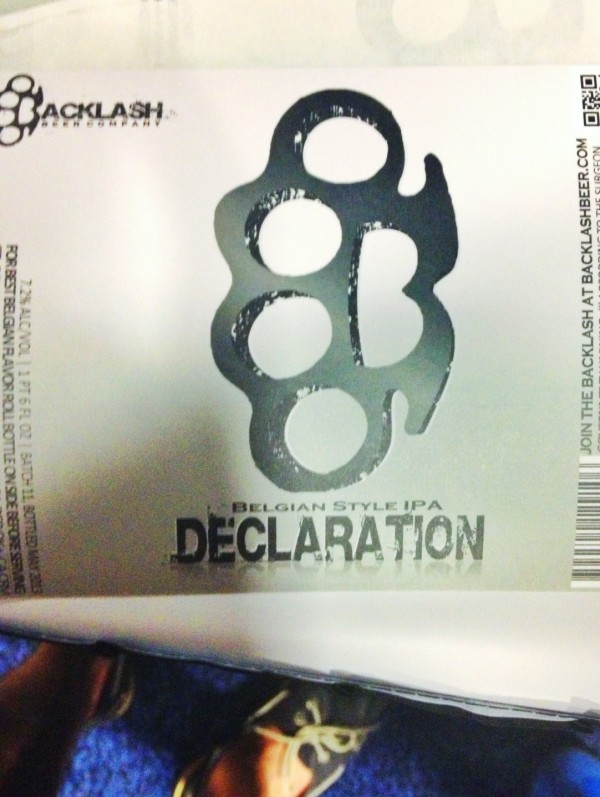 I tried some of the other Backlash offerings last September at an Antler BrewDown event and was impressed, so I was excited to try the rest of their offerings at ACBF. The Declaration Belgian-style IPA was the standout among their offerings. Backlash has a very distinctive brand identity: I was drawn to their booth's distinctive brass knuckles logo from across the convention center. However, within their lineup there is a lack of visual distinction, and it prevented me from remembering which offerings I had tried previously because they all looked the same. The staff manning the booth was a bit surly, but with beers this good they could afford to be. (I brought up the issue of brand distinctiveness to them; they were not very interested in my critique.)
Foolproof Brewing Company stood out because of their distinctive visual presence. The clean, contemporary script logotype and the jester icon caught my eye, but what especially impressed me was the way that they maintained a strong brand identity while also having a distinct design for each beer in their line.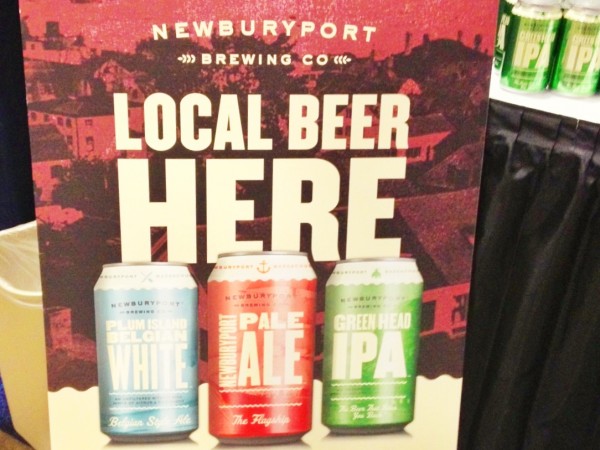 Hailing from just north of the city, Newburyport Brewing Company offers a line of canned beers which are perfect for warm-weather, out-of-doors consumption. The Pale Ale was my favorite, and I hope to make it a picnic staple this summer. Also, despite being named after the most obnoxious, incessant insect known to man, the Green Head IPA was one of the better IPAs that I've had in a can. The packaging design is very current, and I look forward to seeing what's coming down the pike from them.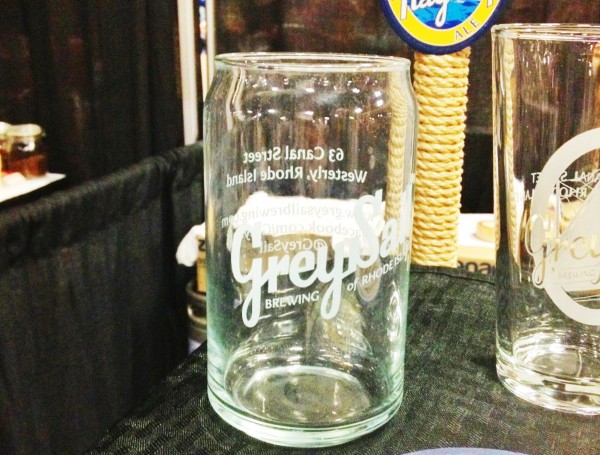 I got a kick out of Grey Sail's distinctive can-inspired glassware. I've since had the opportunity to try drinking out of one of these, and can report that the reversed lip, while aesthetically interesting, doesn't do a great job of smoothly delivering the beer to your mouth.
Did you attend ACBF this year? What were your standouts?
image credits: Union Jack Creative